Dick Van Dyke will turn 97 this year.
Now, he enjoys life with his wife, trying to keep up.
Despite his age, acclaimed entertainer Dick Van Dyke is still as fit as ever. Moreover, he and his wife of ten years, Arlene Silver, are still madly in love.
Actor Dick Van Dyke recently stepped out in Los Angeles with his wife, Arlene Silver. The couple was spotted arriving at the gym together. Van Dyke reportedly appeared lively as he smiled while taking photos with fans in the parking lot before accessing the facility to have a workout session with his spouse.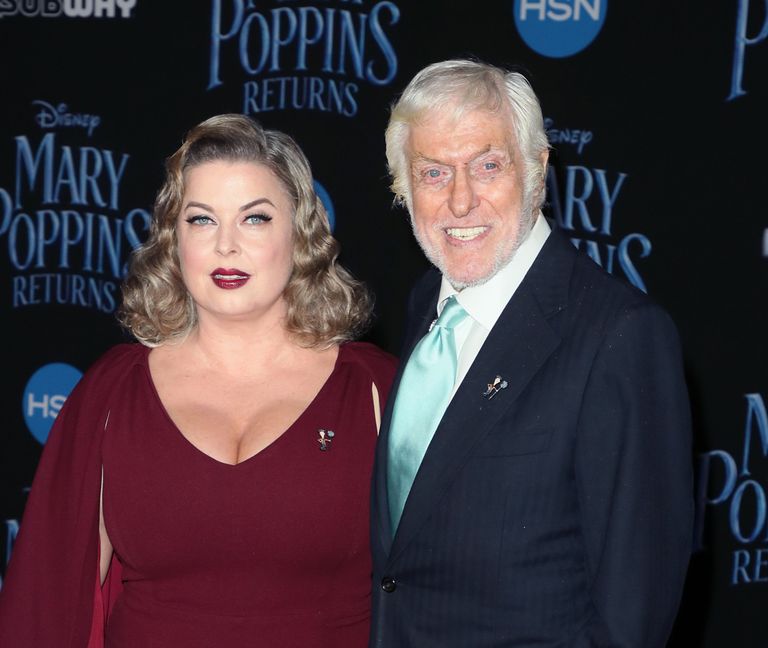 Despite reports that he had recently been dealing with pink eye, the comedian did not seem fazed by it, as he gladly posed. Meanwhile, his wife, Silver, also stopped to take pictures.
The duo then headed inside the gym and drove home together over an hour later. Van Dyke donned a burgundy hooded top for the session, while Silver wore a gray sweatshirt paired with black sweatpants.
How Did He Meet His Wife?
On Valentine's Day, the couple shared a clip of themselves dancing and singing to "Everybody Loves a Lover." Van Dyke revealed to Closer Weekly in March 2022 that Silver was the reason why he is happy and active:
"We share an attitude. She can go with the flow. She loves to sing and dance, which we do almost every day. She's just delightful."
The lovebirds have a 46-year age difference, but Silver, a makeup artist, is not bothered by that. Instead, she gushed about her husband: "He is the most perfect human being. I've never met anyone so happy, so genuine, so amazing. He's just like a happy pill."
The couple crossed paths in 2007 at the Screen Guilders Awards. Van Dyke was at the event to present an award, and he ended up conversing with Silver, who powdered his nose.
When recalling their first interaction, she said the Missouri native introduced himself, and in response, she asked him whether he was not the same person who starred in the 1964 musical film, "Mary Poppins."
They instantly got along and became pals. Silver, 51, explained that from there, it did not "feel like he was much older than me." Meanwhile, her husband admitted he never thought he would find love again. Van Dyke was also nervous about people accepting their relationship because of their age gap.
The TV star, who previously had 30-plus-year relationships, sincerely believed people would call them out on their romance and perpetuate that Silver was only marrying him because of his money. However, no one ever remarked, he said.
The happy couple celebrated their 10th wedding anniversary on February 29, 2022. When referring to the video they shared showing them singing and dancing, Van Dyke noted he loves harmonizing because it drives him, and he enjoys it more than anything else.
Van Dyke Creates Romantic Moments for His 46-Years-Younger Wife
Van Dyke is a romantic at heart. He and Silver got down for their romantic music video of the song "Everybody Loves a Lover," joined by the Vantastix band. The two were in a moment as they sang a duet while he showed off his dance moves.
This is Van Dyke's second marriage, as he was first married to Margie Willett. The former couple wed in 1948 but divorced in 1984 after 36 years of marriage. They share four children, Barry, Carrie, Christian, and Stacy. The "Diagnosis: Murder" alum is also a grandfather of seven.
After his first marriage fell apart, Van Dyke, met his longtime love, Michelle Triola. The two had lived together for 30 years before she sadly died in 2009.
Apart from his love life, Van Dyke is a celebrated Hollywood icon. He was honored at the 43rd Annual Kennedy Center Honors ceremony in February 2021 in Washington, D.C. The award-winning star told Entertainment Tonight that he was thrilled to be just at any place.
He noted he wished he could have done more caring for himself had he known he would still be alive today. "How I got here, I don't know, and I'm not going to ask," Van Dyke said.
When asked what he hoped to accomplish next in his seven-decade-long career, the film and television legend said possibly "Knighthood" because nothing could top that level of achievement.