A North Dakota boy decides to spend his summer mowing lawns around the neighborhood after finding out his late dad was buried without a gravestone. Although they never met each other since the boy was adopted at birth, he wanted to honor his dad's memory in a way he knew how.
For Brandon Bakke, it didn't matter that he didn't know his biological father. All he knew was that anyone, regardless of who they were or what their past was, deserved to be laid to rest appropriately.
A family from North Dakota adopted Brandon at birth. When the young boy started to grow up, he began to ask questions about his biological parents, which prompted his mom, Brandy Bakke, to try and find out as much as she could for her son.
Asking Questions
In 2015, Brandy managed to get the last name of Brandon's biological parents. As their last name wasn't so common, she decided to message people with the same name on Facebook. The following year, Brandy got a response from Brandon's biological sister, Tiffany.
[Tiffany] admitted that their family had already struggled financially to bury him so they couldn't buy him a marker.
At first, Brandy was nervous about how the family would react to her and Brandon wanting to get to know them. She didn't know whether they were interested in meeting Brandon, and she was afraid to break the boy's heart if things suddenly turned sour.
An Unfortunate Discovery
However, all these thoughts were suddenly squashed when Tiffany assured them they were also interested in getting to know Brandon. After all, they had known about him all his life.
Unfortunately, Tiffany had some bad news for Brandon. She revealed that his father, Terrance, had died of an asthma attack just the year before at age 56.
Upon hearing this, Brandon immediately said he wanted to visit his grave in Chicago. Tiffany gladly welcomed the visit but warned that their father was buried without a gravestone. She admitted that their family had already struggled financially to bury him so they couldn't buy him a marker.
A Selfless Sacrifice
Initially, it seemed as if Brandon didn't think anything of this. However, a few days later, his true feelings showed. He approached his mom with $175, which he had saved from mowing lawns.
He asked his mom if it was enough to buy a gravestone for his dad. "When I found out my dad's grave didn't have a stone, I got really sad and thought if I did something for him, he'd be proud," he shared.
According to Brandy, it didn't sit well with her son that somebody, especially his dad, was buried without a marker. Explaining what Brandon told her, she said:
"It really bothered him that somebody, especially his father, was buried and he didn't have any way for anyone to know who he was. He wanted to do something about it."
Working Hard for a Stone
Brandon had always been quite the entrepreneur, and when he discovered that a gravestone would cost more than just $175, he immediately got to work. He promoted his lawn mowing services to more neighbors and worked the entire summer to save almost $400 to buy a stone.
The entire time, Brandon and his biological sister Tiffany kept in touch. Through her, he discovered that his dad loved cooking, among many other things. So, while thinking of what to carve into the stone, he decided on an icon of two hands offering a bowl of soup to symbolize Terrance's generosity and love for cooking.
When Brandon finally had enough money to buy a stone, he walked into the store that helped make the custom-made piece for his dad carrying a ceramic jar full of money. He was given the chance to unveil the stone, carefully laid out on top of a table for him to get a good view of.
Making the Trip to Chicago
Upon seeing the gravestone, Brandon couldn't help but cry. He embraced his mom, who expressed how happy she was for her son to be able to do what he did.
Moved by the story of Brandon's selfless love for his dad, Dakota Monument, who made the gravestone, decided to donate the stone to the young boy instead.
Two weeks after receiving the stone, Brandon made the trip to Chicago with his mom. They were joined in the cemetery by over a dozen members of his biological family, who came from different states just for the occasion.
After a private service, Brandon got to know his biological family and vice versa, and by the time their trip ended, Brandon had returned home to North Dakota feeling inspired.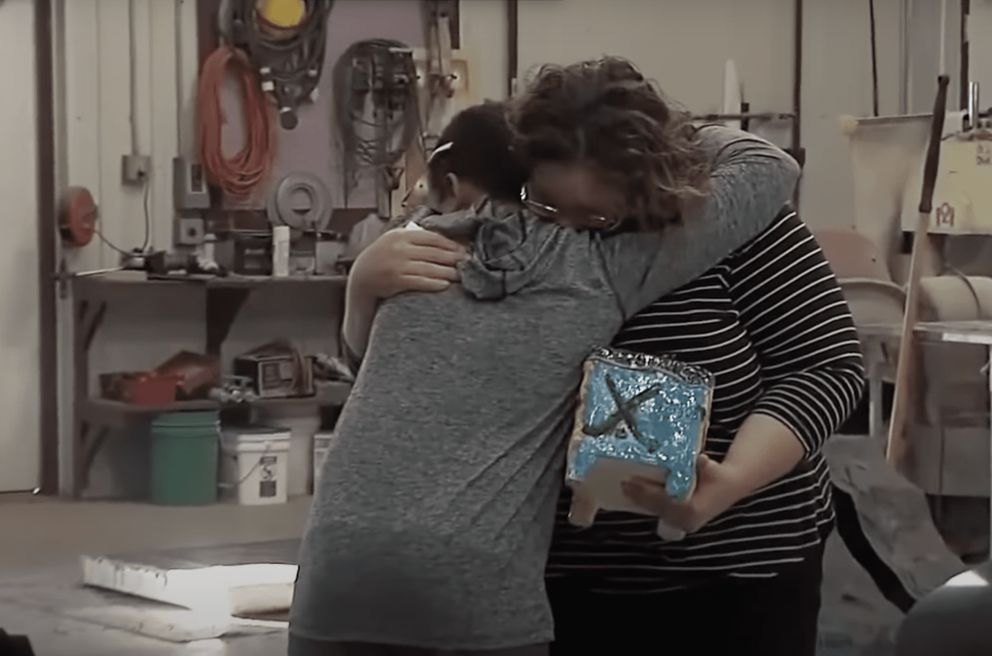 An Inspirational Initiative
Realizing that many other families could not afford gravestones, Brandon started his own business called "Mowing and Blowing for a Purpose." He specializes in lawn mowing and snow blowing, with most of his earnings going to a memorial stone fund that he put up to help other families honor their late loved ones.
Brandon's mission for the business is to "make sure nobody goes unknown in life." Although he never got to know his dad Terrance, Brandon knows that his father would have been proud of him.
Now, the young boy finds comfort in knowing that despite never meeting his dad, he was able to connect with him and do something significant for him and the rest of their family. Because of Brandon, his dad can rest in peace, knowing he will never be forgotten.
Click here to read the story of an adoptive mom who recognizes her son's biological dad panhandling near a supermarket.